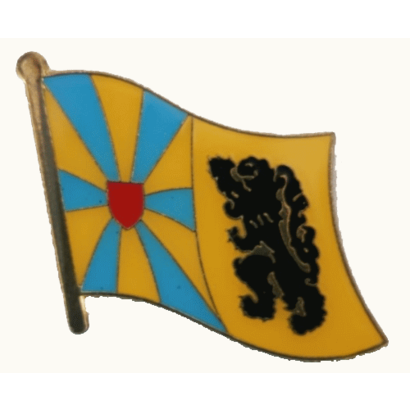 West Flanders flag lapel pin
BP06PIN
West Flanders flag lapel pin
Ca 17x 12 mm,
Hard enamel pin
High quality and long lasting
Butterfly clasp on back
Nice, clear colours ...
More information
Product description
Brand:

Speldje

Article number:

BP06PIN
West Flanders flag lapel pin
West Flanders (Dutch: West-Vlaanderen  West Flemish: West Vloandern; French: (Province de) Flandre-Occidentale; German: Westflandern) is the westernmost province of the Flemish Region, in Belgium. It is the only coastal Belgian province, facing the North Sea to the north. It has land borders with the Netherlands to the northeast, the Flemish province of East Flanders to the east, the Walloon province of Hainaut in the southeast and France to the west. Its capital is Bruges (Brugge). Other important cities are Kortrijk in the south and Ostend on the coast, Roeselare and Ypres (Ieper). The province has an area of 3,125 km2 which is divided into eight administrative districts (arrondissementen) containing 64 municipalities.
Ca 17x 12 mm, Hard enamel pin High quality and long lasting Butterfly clasp on back Nice, clear colours