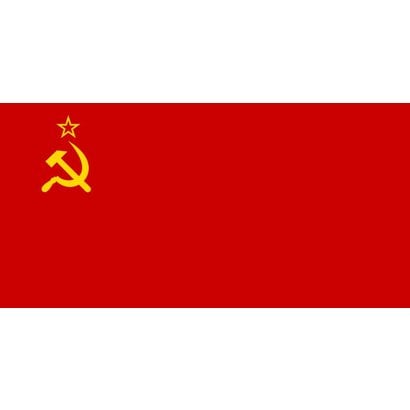 USSR Soviet Union flag
MI51ST90
USSR Soviet Union flag
Polyester flag, bright colors, double-stitched edges, washable up to 30C, strengthened on mast side and UV-resistant. Available in standard or premium quality. ...
More information
Product description
Brand:

Vlag

Article number:

MI51ST90
Flag of the Union of Soviet Socialist Republics USSR
The State Flag of the Union of Soviet Socialist Republics (Russian: Государственный флаг Союза Советских Социалистических Республик, tr. Gosudárstvenny flag Soyúza Sovétskikh Sotsialistícheskikh Respúblik); commonly known as the Soviet flag (Russian: Сове́тский флаг, tr. Sovétsky flag) was the official national flag of the Soviet Union from 1923 to 1991. The flag's design and symbolism are derived from the Russian Revolution. The flag is also an international symbol of the communist movement as a whole. The nicknames for the flag were The Hammer and Sickle and The Red Banner - this being composed of a sickle used to harvest grain crops and the type or style of hammer, used to make a razor sharp edge on the sickles and scythes.
The ratio of the Premium quality flags is equal to the official ratio of 2:1. The 150 x 100cm flag will be 150 x 75cm etc.
Standard quality flags are suitable for indoor or light outdoor use. Premium (i.e. highest quality) flags are suitable for long-term outdoor use. Standard quality flags are usually in stock, which means a very fast delivery time. Logoflags, municipality and most Premium quality flags have a delivery time of 2 to 5 working days. If you are not able to find your flag on the site, contact us and we will print it for you.
Reviews