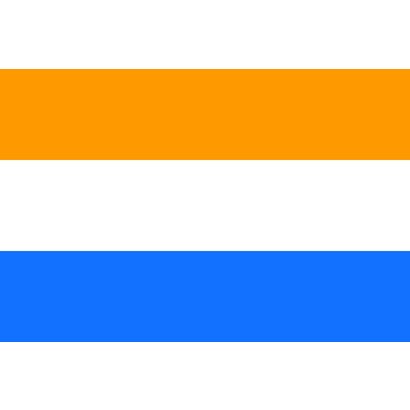 Princes flag
MI22914030
Materiaal: Polyesterdoek, sneldrogend. Weer en waterecht in chemische textiel kleurstoffen met een volledige doordruk.
Afwerking: afgewerkt met lus en koord of haken. De vlag wordt rondom gezoomd en afgewerkt met een broekingsband. ...
More information
Product description
Brand:

Vlag

Article number:

MI22914030
Princes flag
The Prince's Flag (Dutch: Prinsenvlag) is a Dutch flag, first used in the Dutch Revolt during the late 16th century.
The Prince's Flag is based on the Flag of Prince William of Orange-Nassau, hence the name. The colours are orange, white and blue, which is why the flag is often called oranje-blanje-bleu (or even: ranje-blanje-bleu) in Dutch.
Standard quality flags are suitable for indoor or light outdoor use. Premium (i.e. highest quality) flags are suitable for long-term outdoor use. Standard quality flags are usually in stock, which means a very fast delivery time. Logoflags, municipality and most Premium quality flags have a delivery time of 2 to 5 working days. If you are not able to find your flag on the site, contact us and we will print it for you.
Reviews