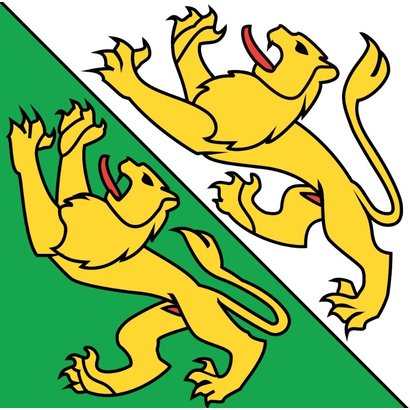 flag Thurgau Canton Switzerland
ZWK02ST120
flag Thurgau Canton Switzerland
These flags of the Swiss Canton regions are, unlike most other country and region flags, officially square shaped. The flag are available in 60 x 60cm, 90 x 90cm, 120 x 120cm and 150 x 150cm ( Standard quality ) and in all ...
More information
Product description
Brand:

Vlag

Article number:

ZWK02ST120
flag Thurgau Canton Switzerland
The canton of Thurgau, anglicized as Thurgovia) is a northeast canton of Switzerland.
It is named for the river Thur, and the name Thurgovia was historically used for a larger area, including part of this river's basin upstream of the modern canton. The area of what is now Thurgau was acquired as subject territories by the cantons of the Old Swiss Confederacy from the mid 15th century. Thurgau was first declared a canton in its own right at the formation of the Helvetic Republic in 1798.
The population, as of December 2017, is 273,801. In 2007, there were a total of 47,390 (or 19.9% of the population) who were resident foreigners. The capital is Frauenfeld.