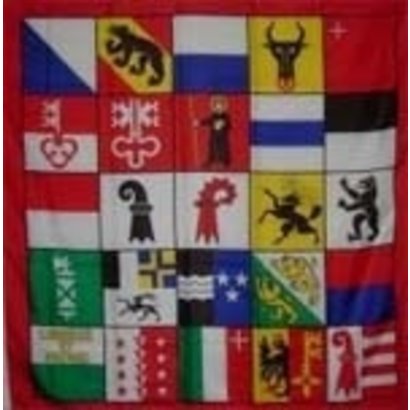 flag overview all Canton flags Switzerland
ZWK10ST120
flag overview all Canton flags Switzerland
These flags of the Swiss Canton regions are, unlike most other country and region flags, officially square shaped. The flag are available in 60 x 60cm, 90 x 90cm, 120 x 120cm and 150 x 150cm ( Standard quality ) ...
More information
Product description
Brand:

Vlag

Article number:

ZWK10ST120
flag overview all Canton flags Switzerland
The 26 cantons of Switzerland (German: Kanton, French: canton, Italian: cantone, Romansh: chantun) are the member states of the Swiss Confederation. The nucleus of the Swiss Confederacy in the form of the first three confederate allies used to be referred to as the Waldstätte. Two further major steps in the development of the Swiss cantonal system are referred to by the terms Acht Orte("Eight Cantons"; between 1353 and 1481) and Dreizehn Orte ("Thirteen Cantons", during 1513–1798); they were important intermediate periods of the Ancient Swiss Confederacy.
Each canton, formerly also Ort (from before 1450), or Stand ("estate", from c. 1550), was a fully sovereign state with its own border controls, army, and currency from at least the Treaty of Westphalia(1648) until the establishment of the Swiss federal state in 1848, with a brief period of centralized government during the Helvetic Republic (1798–1803). The term Kanton was widely used since then.
From 1833, there were 25 cantons, increasing to 26 after the secession of the canton of Jura from Bern in 1979. The areas of the cantons vary from 37 km2 (canton of Basel-Stadt) to 7,105 km2 (canton of Grisons); the populations vary from 16,003 (canton of Appenzell Innerrhoden) to 1,487,969 (canton of Zürich).