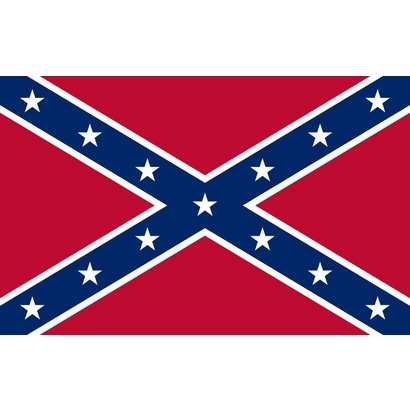 Confederate flag
USC12ST90
Polyester flag, bright colors, double-stitched edges, washable up to 30C, strengthened on mast side and UV-resistant. Available in standard or premium quality. ...
More information
Product description
Brand:

Vlag

Article number:

USC12ST90
Confederate flag
Three successive designs served as the official national flag of the Confederate States of America (the "Confederate States" or the "Confederacy") during its existence from 1861 to 1865.
Since the end of the American Civil War, private and official use of the Confederacy's flags, and of flags with derivative designs, has continued under philosophical, political, cultural, and racial controversy in the United States. These include flags displayed in states; cities, towns and counties; schools, colleges and universities; private organizations and associations; and by individuals.
Standard quality flags are suitable for indoor or light outdoor use. Premium (i.e. highest quality) flags are suitable for long-term outdoor use. Standard quality flags are usually in stock, which means a very fast delivery time. Logoflags, municipality and most Premium quality flags have a delivery time of 2 to 5 working days. If you are not able to find your flag on the site, contact us and we will print it for you.