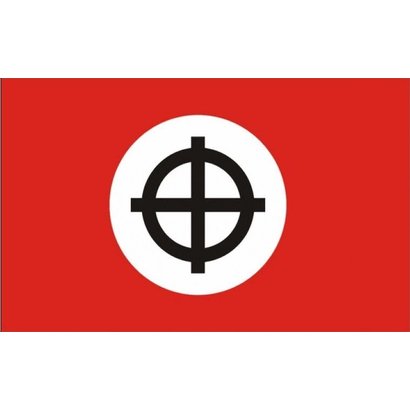 Celtic Cross red flag
MI62RST150
Polyester flag, bright colors, double-stitched edges, washable up to 30C, strengthened on mast side and UV-resistant. Available in standard or premium quality. ...
More information
Product description
Brand:

Vlag

Article number:

MI62RST150
Celtic Cross Red
The Celtic cross is a form of Christian cross featuring a nimbus or ring that emerged in Ireland and Britain in the Early Middle Ages. A type of ringed cross, it became widespread through its use in the stone high crosses erected across the islands, especially in regions evangelized by Irish missionaries, from the 9th through the 12th centuries.
A staple of Insular art, the Celtic cross is essentially a Latin cross with a nimbus surrounding the intersection of the arms and stem. Scholars have debated its exact origins, but it is related to earlier crosses featuring rings. The form gained new popularity during the Celtic Revival of the 19th century; the name "Celtic cross" is a convention dating from that time. The shape, usually decorated with interlace and other motifs from Insular art, became popular for funerary monuments and other uses, and has remained so, spreading well beyond Ireland.
Standard quality flags are suitable for indoor or light outdoor use. Premium (i.e. highest quality) flags are suitable for long-term outdoor use. Standard quality flags are usually in stock, which means a very fast delivery time. Logoflags, municipality and most Premium quality flags have a delivery time of 2 to 5 working days. If you are not able to find your flag on the site, contact us and we will print it for you.